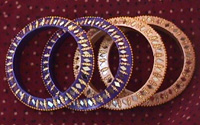 India. An ancient country. A young nation.
One nation, when a billion speak 17 languages, 700 different dialects! A delicate balance of faith among 1000 religions, 2 million Gods! The charm of the Taj Mahal! The seed of IT brains to the world!
All have a different story to sing. A saga
that was born, played childish tricks, grew,
intermingled with a battery of intruders over
2500 years and matured like an aging mother.
The classic talent of
unsung artists carries
the rare and beautiful art
for generations;
and they weave magic
out of nothing.
Touch the interiors and
there are tribals making
strikingly beautiful motifs.
Of iron they dont buy
but hunt for,
within their habitat!

Have a look at their work, here!